What is a moment?
A moment is quite simply a single memory from a specific point in time.
A moment can contain a note (a journal entry), people, places, tags and a single photo or video.
Photos are treated as individual moments as they are in essence a single moment in time.
What is a moment group?
A moment group is a group of moments which have elements in common and occur at the same time or a close period of time. Moment groups are displayed together to conserve space, helping review and edit moments easier and quicker.
Photos are most commonly seen as groups. Rather than displaying each photo as a single moment with an individual timestamp, Momento will group photos together if the reside at the same place, in a close period of time.
Moment groups can also be edited together to make it quick and easy to change places, people and tags.
Day Timeline
Photos are often displayed as moment groups on the day timeline.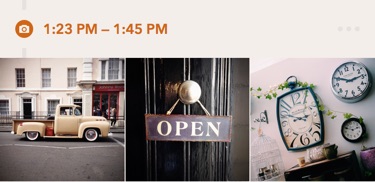 Tap on the time of a moment group to see the moments broken down individually.
If you edit an individual moment it may 'break-out' of the moment group depending on the changes you make.
Adding or editing a moment group
When adding a moment with several photos, Momento will automatically divide them into moment groups based on their location and the time they were taken.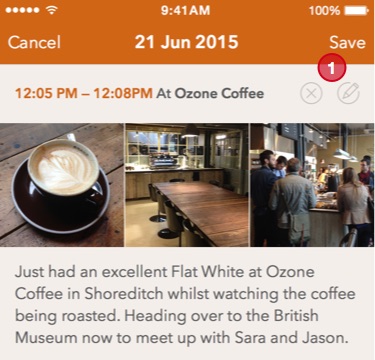 If you added several photos which has created more than one group then you can edit a specific group by tapping the 'edit' icon (1) alongside it. This will allow you to make changes which will only affect that specific group.
For full details on editing moment groups, see the 'Photos' sections of 'How do I add a new moment?' FAQ article.